Intro
Breathtaking digital experience for Mihano Momosa.
—
Mihano Momosa places the woman at the center of its creativity by giving her the title of princess and inserting her into a modern fairytale context.
Handmade romantic garments celebrate the ideal of love, providing comfort, beauty and high-class elegance at the same time.
The online platform connects with the female audience on an emotional level with compelling content and effortless design.
Our Role
Creative Concept
User Experience
Design Direction
Micro Interactions
Animation
Problem
Challenge
—
Luxury brand Mihano Momosa came to us with a very unique challenge: although the brand had a recognizable imprint for its custom-tailored designs, it had minor digital presence and no functioning e-shop.

Simple shopping cart implementation wasn't the answer for this brand, as the high level of product customization and 13 different collections needing commercialization required a different approach.
Thinking
Strategy & Approach
—
Detailed research lead to the realization that most traffic and potential customers were located on Instagram and Facebook, so our approach was adapted to these users. Individual communication forms were developed for each dress on the website.

Individual communication forms were developed for each dress on the website. Taking a cue from the brand's mission of placing women on the thrones of their own universe, we created an experience where users could send questions directly to Mihano Momosa to find out how a dress is made, manufacture and delivery times, and how to order.
Result
Final Experience
—
The final experience for end users was fluid with a customer-centric approach. The result was both an increase in digital visibility and the conversion of social media followers to customers.

Today, Mihano Momosa is an emerging brand ready to expand its base through in-depth articles thanks to the platform we developed.
Highlights
This exceptional collaboration has given me the tools and exposure I need to expand into larger markets.
Design
Creating new Visual language for all digital platforms.
—
Although the Mihano Momosa brand uses high-impact designs, it wanted to transform its digital presence.
We were tasked with creating a new visual language for all digital platforms, including mobile, without sacrificing the beauty of the site or the brand's message.

Through updated typography, smooth animations, and big photography, we created a visually appealing, immersive world designed to motivate and engage customers while making them feel like royalty.

A large part of our research was focused on how we communicate with customers. Part of the challenge was transforming emotion and feeling into something visually tangible.
We believe a positive experience is the combination of two elements: visual and textual. To achieve that, we experimented with different animations while enhancing the end-user experience.

We also incorporated video to present the client and to use as a guide for further development. The outcome was a visually stunning site that brought solid results to the brand.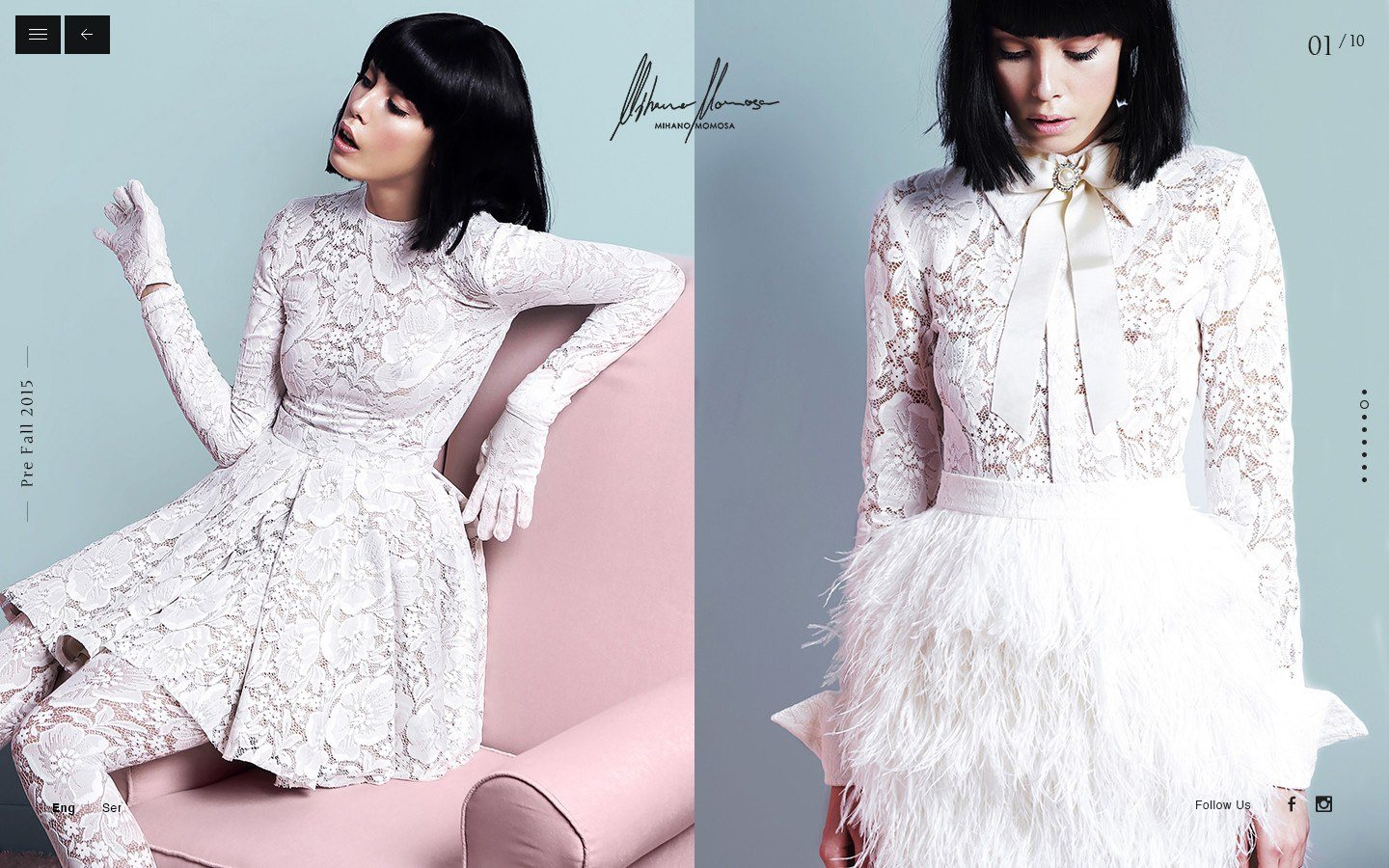 Mobile.
We developed mobile-integrated formats to open access to smartphone and tablet users without sacrificing the beauty of the final product.
Contact
Big or Small. Fast or Slow. You are an email away to glow.
Whatever your needs, we're looking forward to hearing from you.
Drop Us a line